Jaunt VR – THE FUTURE OF CINEMATIC VR
"Following more than two years of intensive research and development, we bring you a first look at Jaunt's professional-grade stereographic cinematic VR camera, codenamed "NEO."" – Jaunt VR – THE FUTURE OF CINEMATIC VR
Unlike any virtual reality or 360-degree camera before the VR appeared at CES this year with keen interest. Keep in mind this is not intended for or available to the individual user, this is a "Big Boy" toy. This is a professional-grade VR camera intended for movie making or broadcast recording. Their emphasis is on quality. This baby has HD camera modules, each with one-inch sensors with global shutters and HDR.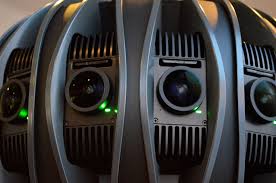 Most cameras, even top shelf SLR's have rolling shutter sensors, which record moving objects from top to bottom. This can create noticeable distortion when recording swift-moving objects even at a high shutter speed. For immersive motion capture, you need to stitch all the images togeather. Global shutter records all scan lines at once. The memory arrays are behind the pixel cells, with each pixel mapped to a memory cell.
Once the video is captured it is uploaded to a cloud-based rendering system that combines all of the data and then reconstructs it as stereo output.  This creates a virtual camera output for each eye. The company only does content partnership deals, which allows Jaunt to distribute the content on its own player in its app. The company retains the right to distribute the content.
So while this is not a product for the consumer it provides a glimpse into what is coming – VR is becoming serious business. Rumors are that Jaunt has raised in excess of $100m, an indicator of its acceptance among those that can appreciate this baby!
---
You need a VR viewer to appreciate this video, or view it in 3d!  Have an iPhone? Get the Janut App and check this out today!
---
Even without a VR viewer, the 360 experience is awesome!